In case of rain
Last night, I had the pleasure of meeting Danielle and Alaina of The Everygirl and was inspired by a bit of our conversation to compile a few links to my favorite rain gear resources.
After seven years in New England, I've learned my lesson many times over when it comes to rain preparedness. Here are some tips and favorite products I've loved. 
Hunter boots are ubiquitous around here, and for good reason. These babies last forever. You could probably wear them while swamp fishing. Add a boot liner, and you could wear them backpacking in Antarctica. I found mine on sale in the middle of the summer a couple of years ago, and I'm so glad I made the investment. My only complaint is that the original version is a little heavy. The Champery style is lighter and has a stylish wedge.
Speaking of Hunter, have you seen their totes? 
They're also pricey, but select colors are currently on sale. Soggy shoes are one of my biggest pet peeves, but a drenched bag is a close second. Wouldn't it be nice to have a cheery tote that stays dry?
Speaking of shoes, sometimes you just get caught in the rain without your wellies, especially around here. I love these rainy day flats from JCrew for rain emergencies.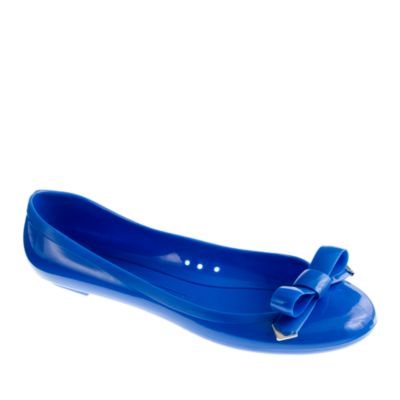 I got mine on sale back in the Fall, and I love that I can just toss them into my bag when there's a chance of rain. They're surprisingly comfy and also serve as a nice backup to change into after wearing heels. In a similar vein, my friend swears by these Crocs-that-don't-look-like-Crocs.
As for jackets, trench coats are always classic, but I love this EMS rain jacket for torrential downpours. It's not the cutest thing ever, but I find that longer styles are at least a little more flattering.
P.S. Do you have any umbrella recommendations? Also, have you seen these Rite in the Rain waterproof notebooks? They're totally unnecessary unless you're an anthropologist or a poet-fisherman, but I think they're kind of amazing.